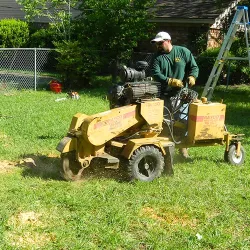 Advanced Tree Services offers stump grinding services to residential, commercial, and non-profit properties, as well as neighborhood associations, in Burleson, Crowley, Fort Worth, and surrounding areas of North Texas. Our powerful machinery can quickly grind down any stump, regardless of size, into small pieces.
Our team of experts is skilled in maneuvering our stump grinding equipment in any situation, including tight spaces near other trees or fences. 
Stump grinding is the process of removing a tree stump from the ground using specialized equipment. The tree stump is ground down into small pieces by a machine called a stump grinder. The machine has a rotating cutting disk that chips away at the stump until it is reduced to sawdust or small pieces of wood.
The resulting mulch can be left in place, or removed and disposed of. Stump grinding is an effective and efficient way to remove tree stumps, leaving the area clear for new growth or landscaping.
Benefits of Removing Stumps From Your Yard
You might have been looking at a tree stump in your yard for several years now. Maybe you were hoping it would rot away on it's own. Unfortunately, it won't be going anywhere. anytime soon. That's where Advanced Tree Services can help. There are several benefits to removing stumps from your yard, including:
Improved appearance
Stumps can be unsightly and detract from the overall appearance of your property. Removing them can enhance the look of your landscaping and increase curb appeal.
Increased safety
Stumps can be tripping hazards and can cause injury if not removed. Removing them eliminates this risk.
New growth
Removing stumps allows for new growth in that area, whether it be grass, flowers, or a new tree.
Pest reduction
Stumps can attract insects and other pests, such as termites, which can damage surrounding structures. Removing the stumps can reduce the presence of pests.
Increased property value
Removing stumps can increase the overall value of your property, making it more attractive to potential buyers or renters.
More usable space
Removing stumps can free up space in your yard for other uses, such as gardening, recreation, or landscaping.
Don't let stubborn stumps continue to detract from your property's appearance. Contact us for a fast consultation and we'll have it removed in no time. To get an estimate for stump grinding, simply provide us with the measurements of the stump from its longest point to its longest point and cross measurement.
We leave the ground mulch in the hole unless otherwise requested, but there may be an additional charge for its removal or relocation to another area. Choose Advanced Tree Services for expert stump grinding services in North Texas.