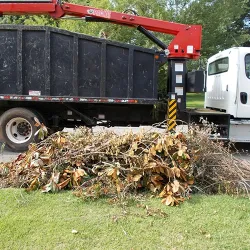 North Texas property owners recognize that debris removal is an important aspect of maintaining a clean and well-maintained property. Whether it's from a tree or tree stump removal, storm damage, or simply from regular yard maintenance, debris can accumulate quickly and become a hassle to remove.
That's why we offer debris removal as an independent service, not just tied to tree or tree stump removal. Our team of professionals has the equipment and experience necessary to safely remove and dispose of any type of debris, including branches, leaves, limbs, and more.
We understand the importance of keeping your property clean and free of debris, not only for aesthetic purposes but also for safety reasons. Debris can attract pests and cause tripping hazards, and it can also become a fire hazard during dry conditions.
At Advanced Tree Services, we take care of all aspects of debris removal, including transportation and disposal. Our goal is to leave your property spotless, so you can focus on enjoying your yard, not cleaning up after us.
So, whether you're in Burleson, Crowley, Fort Worth, or any surrounding areas of North Texas, give Advanced Tree Services a call for your debris removal needs. Let us take care of the mess, so you don't have to.