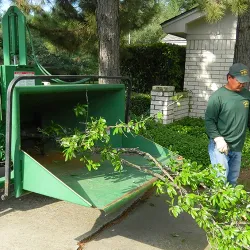 At Advanced Tree Services, we believe in not only providing top-notch tree services to our customers, but also being responsible stewards of the environment. That's why we are dedicated to promoting sustainable and green practices in all aspects of our business, including debris removal and disposal.
Our team of experts is trained in handling various types of materials, including brush and debris, and turning them into valuable products, such as wood chips. This not only helps to reduce waste, but also provides a new purpose for what might otherwise be considered unwanted materials.
Our tree chippers provide an efficient and effective solution for removing and disposing of trees and debris. Whether you have a small or large job, our team is fully equipped with the necessary tools and knowledge to handle it all.
In addition to providing outstanding tree services, we also believe in leaving your property in better condition than when we arrived. That's why we offer complete cleanup services, in addition to our tree shedder service. This means we'll be removing all the debris generated from our work and leaving your yard spotless.
So, if you're in need of tree chipper services, tree shredding service, or any other tree-related services in the Burleson, Crowley, and Fort Worth area, give Advanced Tree Services a call. Our team is ready to provide you with a free estimate and help you find the best wood chipping solution for your needs.
With our commitment to sustainability and customer satisfaction, you can trust that Advanced Tree Services is the right wood chipper company for you.
---
Chipper Service FAQ
What is a chipper service?
Chipper service is a process of using specialized equipment to shred branches, leaves, and other woody debris into smaller pieces, known as chips. This service is typically used in the tree care industry to dispose of waste materials generated from tree trimming or removal projects.
What materials can be chipped?
Our powerful tree chippers / tree shredders can handle a variety of woody debris, including branches, leaves, small trees, and more. Any branches that are too big for our machines may likely be used for firewood.
Why choose a tree chipper service over other methods of disposal?
Chipping is a more sustainable and environmentally friendly solution compared to burning or sending debris to landfills. The resulting chips can be used as mulch or as fuel for bioenergy purposes, reducing waste and promoting greener practices.
What are the benefits of using a tree chipper service?
Chipper services offer several benefits, including reducing the amount of waste sent to landfills, generating valuable products such as wood chips and mulch, and making it easier to clean up large amounts of debris from tree care projects.
Can I keep the wood chips to use as mulch on my property?
Certainly! The wood chips generated from chipper services can be a valuable resource for landscaping and garden projects. At Advanced Tree Services, we can place the pile in a convenient location (that our machines can get to) for you to use as mulch on your property. This provides an eco-friendly solution for your outdoor needs.
What do I need to do to schedule tree chipper services with Advanced Tree Services?
To schedule chipper services with Advanced Tree Services, simply give us a call and provide us with the details of your project. We will then provide you with a free estimate and help you find the best solution for your needs.