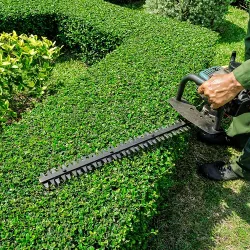 At Advanced Tree Services, we understand the importance of maintaining healthy and well-groomed shrubs and hedges. That's why we offer professional bush trimming services to keep your yard looking its best. Our team of experienced landscaping experts are equipped with the knowledge and skills to properly shape your shrubs and provide the best quality care for them.
We believe that customer satisfaction is key, and our friendly and responsive team will work closely with you to make sure that you are happy with the end result. Our goal is to not only provide you with a trimming service that will leave you appreciating your fresh, green shrubbery, but to also create a personal relationship with our customers.
From shaping to trimming, our team will take care of your shrubs with the utmost care and attention to detail. We have a deep understanding of the different types of bushes and hedges, and we have developed the best techniques to keep them looking their best.
With many years of experience working in a variety of gardens, our team will make sure that your shrubs are the highlight of your yard. Advanced Tree Services offers Bushes and Shrubs Trimming services in the Burleson, Crowley, and Fort Worth areas of North Texas.
---
Bushes and Shrubs Trimming FAQ
What type of shrubs and bushes do you trim?
Advanced Tree Services can trim a wide variety of shrubs and bushes, from small ornamental plants to larger shrubs and hedges.
How often should my shrubs and bushes be trimmed?
The frequency of trimming depends on the growth rate of the shrub or bush. Some shrubs may need to be trimmed several times a year, while others may only need to be trimmed once a year. Our team will assess your shrubs and bushes and recommend a trimming schedule that works best for their health and appearance.
Can you remove the trimmed branches and debris?
Yes, Advanced Tree Services offers debris removal as an additional service. We can remove all trimmed branches and debris, leaving your property clean and tidy or the removed trimmed branches and debris can be chipped up and used as mulch. Advanced Tree Services offers chipper service to convert the debris into wood chips that can be used for landscaping or gardening purposes.
What is the cost for bush and shrub trimming services?
The cost for bushes and shrubs trimming services varies based on the size and number of shrubs and bushes, as well as the complexity of the job. Our team will provide a free estimate for the services you need.
How do I schedule bushes and shrubs trimming services with Advanced Tree Services?
You can schedule bushes and shrubs trimming services with Advanced Tree Services by calling us or filling out a free estimate form on our website. Our team will work with you to schedule a convenient time for the services.