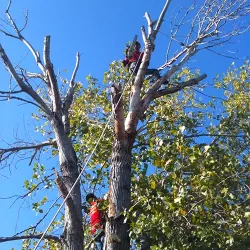 Advanced Tree Services offers tree removal services to residential, commercial, and non-profit properties, as well as neighborhood associations, in Burleson, Crowley, Fort Worth, and surrounding areas of North Texas.
Large/Small Tree Removal refers to the process of removing trees from a property, regardless of their size. This service is necessary when a tree becomes hazardous, diseased, dead, or is simply in the way of other plans for the property.
Tree removal is a complex and potentially dangerous task that should only be performed by trained and experienced professionals, like those at Advanced Tree Services.
Our team of arborists will assess the tree and its surroundings to determine the best and safest method for removal. We use state-of-the-art equipment and techniques to carefully remove the tree, taking all necessary precautions to protect surrounding structures and prevent any damage to the property.
Once the tree has been removed, we will clear the site of all debris and leave it in better condition than before. Our goal is to make the tree removal process as seamless and stress-free as possible for our customers. Contact us today for a consultation and estimate for your Large/Small Tree Removal needs.
Hazardous and Dangerous Tree Removals
At Advanced Tree Services, we are experts in removing large trees with safety as our top priority. Our team is fully insured, ensuring protection for you and your property. While we advocate for tree preservation, we are equipped to handle any tree removal, no matter its size or location.
Our experienced crew uses safe techniques to take down trees, ensuring that surrounding structures, such as homes, fences, and pools, are not damaged. Upon completion, we leave the site clear of debris and in better condition than before. Don't risk damaging property or harming yourself by attempting a tree removal alone.
With every tree service, the experienced crew at Advanced Tree Services provides a uncomplicated experience along with:
Safety
Removing hazardous trees requires specialized skills, training, and equipment to ensure safety for both workers and surrounding structures.
Experience
Professional tree removal companies have years of experience in removing trees of all sizes, making them equipped to handle even the most challenging removal jobs.
Insurance
Professional tree removal companies are insured, providing protection for you and your property in case of any accidents during the removal process.
Compliance with regulations
Professional tree removal companies are aware of and follow all local, state, and federal regulations related to tree removal, ensuring that the removal is carried out in a legal and environmentally responsible manner.
Clean-up
Professional tree removal companies will leave the site clean and tidy, leaving it in better condition than before.
Relying on a professional tree removal company like Advanced Tree Services ensures safety, experience, insurance, compliance with regulations, and a clean-up, making it the best choice for removing hazardous and dangerous trees.
---
Tree Removal FAQ
Many of our clients have questions about the tree removal process. Having to remove a tree from your property doesn't have to be complicated. Below are some common questions we get asked along with the answers. If you have a question you need answered that you don't see here, please feel free to ask us. We'll be happy to provide you with a great answer and solid advice when you need it.
What is tree removal?
Tree removal is the process of removing a tree from a property, whether it is dead, diseased, hazardous, or in the way of other plans for the space it is occupying.
How is a tree removed?
A professional arborist from Advanced Tree Services will assess the tree and its surroundings to determine the best and safest method for removal. The tree will be cut into smaller sections using specialized tools and equipment, such as chainsaws, ropes, and harnesses.
Is tree removal dangerous?
Yes, tree removal can be dangerous and should only be performed by trained professionals. The weight and size of the tree can make it unstable and prone to falling in unpredictable ways, causing damage to property or harm to people. The presence of power lines, buildings, and other structures nearby can also add to the danger of the removal process.
How much does tree removal cost?
The cost of tree removal varies based on the size and location of the tree, as well as any additional services required, such as stump grinding or debris removal. We'll be happy to give you a free estimate for Tree Removal Services.
How do I prepare for tree removal?
You should clear any objects that may be in the way of the removal process, such as furniture or vehicles. We'll let you know if there any additional items that need to be addressed when we arrive to complete the job. Contact Advanced Tree Services for any additional preparation instructions.
What happens to the tree after it has been removed?
We take the time to remove all debris, including branches, leaves, and the tree trunk, and will clear the site of all debris, leaving it tidy and free of any hazards. If desired, we can also remove the stump using a stump grinder or other methods, leaving the property in its original condition. The tree may be taken to a recycling center or used for firewood.